Screening for inducer of K-562 cell differentiation.
Outlines:
K-562 cells were cultured in RPMI 11640 medium containing 10% FCS. Two hundred ul of the cells (5 x 104 cells/ml) were put into each well of a 96 well plate, and various concentrations of test compounds were added to the cells, which were incubated for 96 hours at 37 oC in a 5 % CO2 incubator. The morphological change of the cells was observed under a microscope. The inducing activity on K-562 cell differentiation was estimated by benzidine staining.
Compounds:Respinomycinse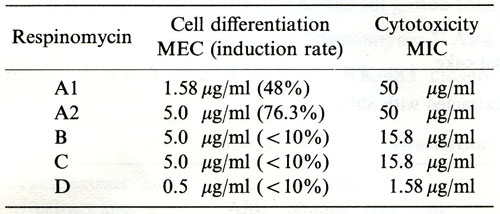 Effects on human leukemia K-562 cells.
Abbreviations: MEC, minimal effective concentration; MIC, minimal ihnibotory concentration. (Ref:1)
References:
M. Ubukata, H. Osada, T. Kudo, K. Isono.
Respinomycins A1, A2 B, C and D, a novel group of anthracycline antibiotics. I. Taxonomy, fermentation, isolation and biological activities.
J. Antibiotics, 46, 936-941 (1993).