光親和型SPRイメージングによる小分子化合物-タンパク質間の物理的相互作用検出
光親和型SPRイメージングによる小分子化合物-タンパク質間の物理的相互作用検出
概要
金基板上に固定化した小分子化合物とタンパク質の物理的相互作用を溶液中で検出する。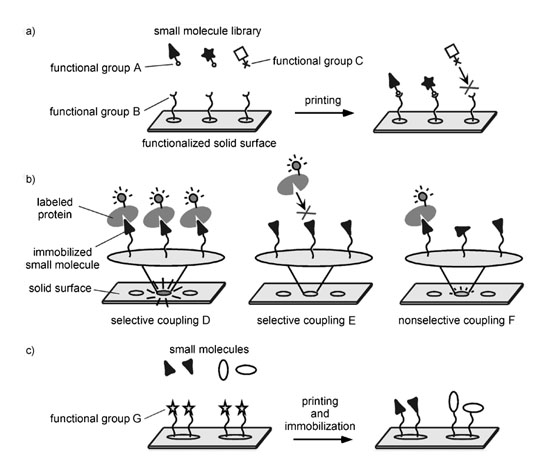 Overview of small-molecule microarrays.
a) Upon printing, a library of small molecules with functional group A readily attach to the solid surface that is derivatized with functional group B, which is reactive to A. Coupling between an inadequate pair of functional groups (i.e., B and C) does not occur. b) When the small molecules are properly immobilized through a selective coupling (D), interactions between these molecules and their binding proteins can be detected sensitively. However, when the immobilization is inadequate (e.g., E), the immobilized small molecule is useless for the protein binding assay. Nonselective immobilization (F) enables not only the introduction of a variety of small molecules, but also the production of a variety of conjugates, some of which are expected to retain affinity toward the binding protein. c) The ideal functional group (G) should be activated under mild conditions, and the resulting species should immobilize a variety of small molecules in a functional-group-independent manner. Moreover, the functional group should not remain on the surface after the immobilization process.(Ref:3)
References:
K. Kawai, A. Saito, T. Sudo, H. Osada.
Specific Regulation of Cytokine-Dependent p38 MAP Kinase Activation by p625/SQSTM1.
J. Biochem., 143, 763-772 (2008).

A. Saito, K. Kawai, H. Takayama, T. Sudo, H. Osada.
Improvement of photoaffinity SPR imaging platform and determination of the binding site of p62/SQSTM1 to p38 MAP kinase.
Chem. Asian J., 3, 1607-1612 (2008).

N. Kanoh, M. Kyo, K. Inamori, A. Ando, A. Asami, A. Nakao, H. Osada.
SPR imaging of photo-cross-linked small molecule microarrays on gold.
Annal. Chem., 78, 2226-2230 (2006).