チロシンホスファターゼ阻害剤の探索
チロシンホスファターゼ阻害剤の探索
概要
細胞内情報伝達系において重要な役割を果たしているホスファターゼは、その基質特異性からセリン/スレオニン型とチロシン型に分類される。そのうちチロシンホスファターゼ(PTPase)の阻害剤に関する報告は少なく、オカダ酸、トートマイシンなどの阻害剤が存在するセリン/スレオニンホスファターゼ(PPase)の機能研究と比較して、立ち後れている。今までにPTPase阻害剤として発見されたRK-682は、細胞周期の各段階に関与するPTPaseの1つの分子種を特異的に阻害して細胞周期を抑制することが判明している。さらに、脳神経研究において、RK-682がモルモット海馬ニューロンにおける長期増強(LTP)を促進する作用も認められている。以上のことは、PTPase阻害剤が制癌剤のみならず、神経系の改善剤となる可能性を示唆している。ヒト繊維芽細胞M426のcDNAライブラリーから得られたVHR遺伝子は、ホスフォセリン/スレオニンとホスフォチロシンの両方を脱リン酸化するホスファターゼをコードする。発現ベクター(pGEX-KT)に組み込まれたVHR遺伝子を大腸菌で発現GST-VHR融合蛋白質を調製し、これを用いてPTPase阻害剤をスクリーニングする。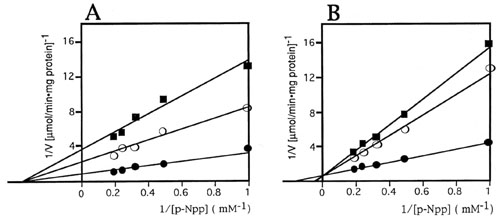 The lineweaver-Burk plot of RK-682 (A) and vanadate (B) to pNPP.
The concentrations of RK-682 were 2.7 (●), 4.1 (○), 5.4 (■)uM. VHR (20 ug/ml) hydrolyzed pNPP (1, 2, 3, 4, 5 mM). Vanadate concentrations were 0 (●), 0.16 (○), 0.25 (■)mM. (Ref:2)
References:
T. Hamaguchi, A. Takahashi, A. Manaka, M. Sato, H. Osada
TU-572, a potent and selective CD45 inhibitor, suppresses IgE-mediated anaphylaxis and murine contact hypersensitivity reactions.
Int. Arch. Allergy Immunol., 126, 318-324 (2001).

T. Hamaguchi, T. Sudo, H. Osada.
RK-682, a potent inhibitor of tyrosine phosphatase, arrested the mammalian cell cycle progression at G1 phase.
FEBS Lett., 372, 54-58 (1995).