ヘパラナーゼ阻害活性
ヘパラナーゼ阻害活性
概要
細胞外マトリックスに存在するヘパラン硫酸の切断能とがん細胞の転移能との関連が示唆されている。我々は蛍光標識したヘパラン硫酸と細胞抽出物を用いたアッセイよりヘパラナーゼ阻害剤を見出している。
その他:阻害活性が見出された物質はがん転移阻害活性評価を外部機関に依頼することも可能。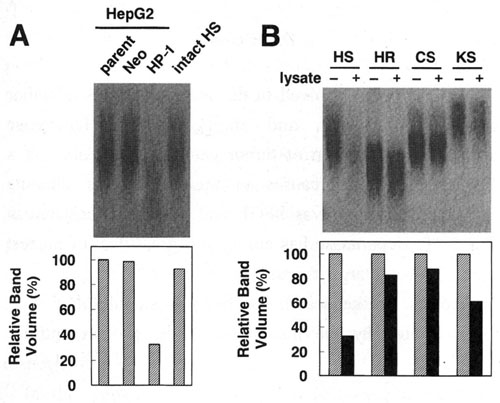 Consequence of the transfection of heparanase gene (A) and substrate specificity of the HpeG2-HP-1 lysate.
(A) haprana sulfate (HS) was treated with the lysate of the indicated cells at 37 oC for 24 hours. (B) Glycosaminoglycans were incubated with or without the lysate at 37 oC for 24 hours. HS: haparan sulfate, HR: heparin, CS: chondroitin sulfate, KS: keratan sulfate. (Ref:2)
References:
N. S. Lai, S. Simizu, D. Morisaki, M. Muroi, H. Osada.
Requirement of the conserved, hydrophobic C-terminus region for the activation of heparanase.
Exp. Cell. Res., 314, 2834-2845 (2008).

K. Ishida, T. Teruya, S. Simizu, H. Osada.
Exploitation of Heparanase Inhibitors from Microbial Metabolites Using an Efficient Visual Screening System.
J. Antibiot., 57, 136-142 (2004).