Balb-MK細胞のEGF刺激によるマイトジェン阻害作用の検定
Balb-MK細胞のEGF刺激によるマイトジェン阻害作用の検定
概要
上皮増殖因子(EGF)や血小板由来増殖因子(PDGF)の受容体は細胞質にチロシンキナーゼ領域を持ち、その活性はリガンドと結合することにより活性化される。癌遺伝子産物の多くはチロシンキナーゼ活性を有している。静止期の細胞は血清や増殖因子で刺激すると再び増殖期へ移行してDNA合成を開始する。このときDNA合成阻害剤やチロシンキナーゼ阻害剤により[3H]チミジンの取り込みが阻害される。EGF刺激で誘導される静止期から増殖期への移行を[3H]チミジンの取り込み阻害を指標にしてEGFのシグナル伝達阻害剤をスクリーニングする。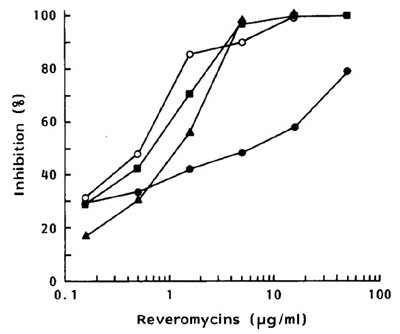 Inhibition of [3H]thymidine uptake into EGF-stimulated Balb/MK cells by reveromycins. ○Reveromycin A, ●reveromycin B, ■reveromycin C, .▲(Ref:1)
References:
H. Takahashi, H. Osada, H. Koshino, M. Sasaki, R. Onose, M. Nakakoshi, M. Yoshihama, K. Isono
Reveromycins, new inhibitors of eukaryotic cell growth. II. Biological activities.
J. Antibiotics, 45, 1414-1419 (1992).

H. Osada, T. Sonoda, H. Kusakabe, K. Isono.
Epiderstatin, a new inhibitor of the mitogenic activity induced by epidermal growth factor. I. Taxonomy, fermentation, isolation and characterization.
J. Antibiotics, 42, 1599-1606 (1989).